Brandenburger Einkaufszentrum Wust
Brandenburg an der Havel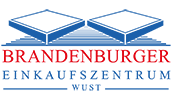 There are no shopping wishes left unsatisfied in Brandenburg Einkaufszentrum Wust. Whether you are looking for large retailers or petite shops, here you will find everything you need for your daily needs and beyond. 1.800 free and spacious parking spaces make Brandenburger Einkaufszentrum Wust a space easily accessible for car drivers.
Currently our center is under construction. In 2019 we will welcome our new anchor tenant - Modepark Röther.
With completely new mall design we create a new experience for our existing and new tenants.
Key Information
1,5 Mio

Visitors per year

49

Shops

33.000

Retail Space in m²

1.800

Parking Lots

1992

Opening